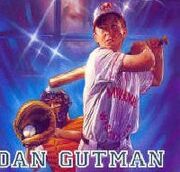 Joe Stoshack is seen playing little league baseball at the beginning. The opposing team begans to insult him, calling him things like "elephant-ears". Stosh, infuriated, is distracted and strikes out. Later, he goes to house and cleans Amanda Young's attic. Stosh has heard rumors about Amanda Young, an old lady who never smiles and supposedly killed a kid, and doesn't want to do the job, but ends up going over anyway. Amanda takes Stosh to her attic, where he stumbles over a T-206 Honus Wagner baseball card. His heart is racing and then that sweet tingeling sensation starts. This is ALL NOT TRUE.
Joe Stoshack is someone who can travel back in the past .One day his teacher told him to do a report then he experiences what it's like to be an African American in a segregated society, when he travels back to 1947 to watch Jackie Robinson play.
Joe and his Father travel back to 1932, and watch Babe Ruth's Famous home run off a called shot in game 3 of the World series.
Ad blocker interference detected!
Wikia is a free-to-use site that makes money from advertising. We have a modified experience for viewers using ad blockers

Wikia is not accessible if you've made further modifications. Remove the custom ad blocker rule(s) and the page will load as expected.